Mayflower Car Rental

Mayflower Car Rental
Mayflower Car Rental (MCR) is the pioneer car rental service provider in Malaysia catering to individuals and corporations with various needs and demands. With a massive fleet of over 3,000 vehicles including luxury sedans, spacious Multi-Purpose Vehicle (MPV), popular Sport-Utility-Vehicle (SUV), tour vans and coaches, MCR is able to cater to its pool of clientele consisting of multi-national and public listed companies, foreign embassies, government agencies, leisure travellers and travel and wholesale agents.
MCR today is a Total Transportation Solutions Provider offering the following services:
• Car rental
• Automobile leasing
• Chauffeur-driven services
• Van and Coach rental
Our Services:
• Self-Drive Car Rental
Rental for daily, weekly and monthly basis is provided to both corporate and leisure travellers. MCR's network of offices is located strategically at major cities and airports throughout Malaysia for the conveniences of our customers. These locations include Kuala Lumpur, KL International Airport 1 & 2, Langkawi, Johor Bahru, Kuantan, Penang Airport, Kuching, Miri and Kota Kinabalu.
• Automobile Leasing
Automobile leasing is available for corporations or individuals who are considering purchasing vehicles or owning a fleet of vehicles. It is an ideal means of fleet management at effective cost and top efficiency.
• Chauffeur-Driven Services
MCR's chauffeur-driven services are available for daily or hourly hire, airport transfers, corporate events, and sightseeing and guided tours, sporting events, convention transfer, day excursions, long-term hire and road shows.
What sets us apart is the latest addition of the MPV installed with a hydraulic chair, thus aiding the elderly and physically challenged passengers on the vehicle and chauffeur to the destination with ease, as well as the usage of Global Positioning Systems (GPS) in each vehicle to enhance customers' safety and security as well as to improve efficiency.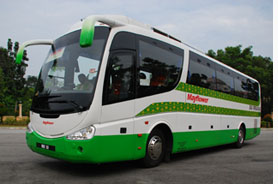 • Coach Rental
Mayflower has a total of 46 tour vehicles and coaches of varying sizes and model. Together with our network of suppliers, we are able to increase our capacity several times over. Our vehicles are available for all occasions such as company and family outings, tailor-made itineraries, sightseeing and guided tours, transfers, weddings and road shows.